Our Neighborhood Podcast & a new course on Data Storytelling
Dear readers of Animo,
Short post today, but before I get into that, how are you?
How are you, really?
Take a second to check-in with yourself.
I've had a month of ups and downs, not unlike many of you, I am guessing. And I'm actively looking for reserves of courage within and outside. We've just crossed the 6-month mark of this pandemic and Dr. Aisha Ahmed wrote a Twitter thread about this milestone from her experiences in warzones. It spoke to me:
Perhaps it will speak to you too. Wherever you are on this journey, I am sending you courage and love.
---
Today I want to instead share two "stories"!
First, the story of my journey in education. The incredible Kumkum Arora and Prasanth Nori interviewed me on their Our Neighborhood podcast, and for the first time, I feel like I've publicly said what I say when I sit down for a long introductory coffee chat. In many ways, this is my Public Narrative – the story of why I really do what I do. Themes include dropping out, failing, the necessity of courage, and the importance of community when you're pursuing your ikigai!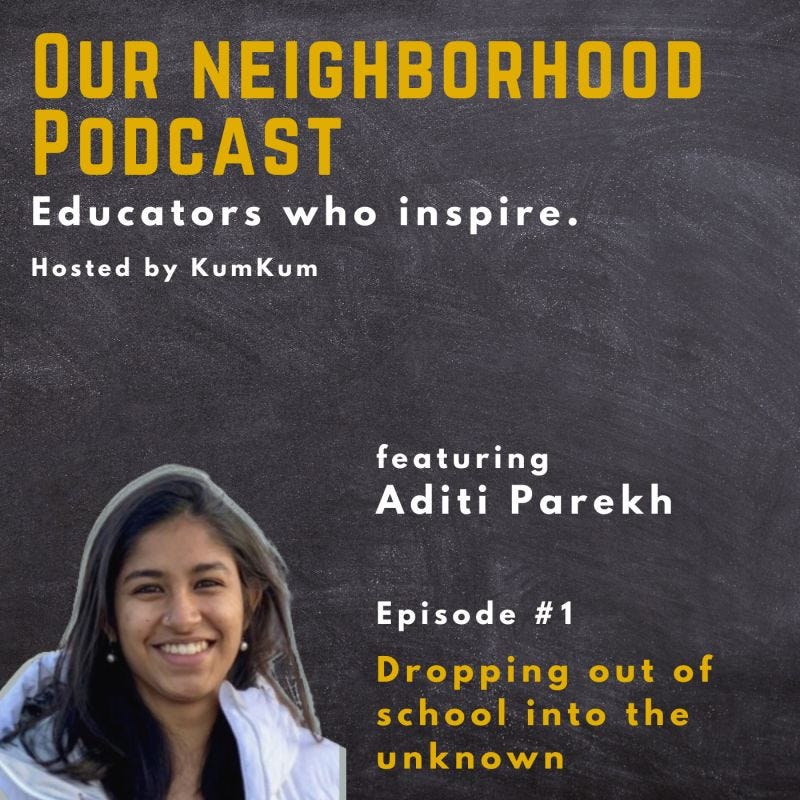 Listen to it on Spotify,  Google Podcasts or Anchor. Also, check out their interviews with Aditi Nangia (Central Square Foundation) on Systems-Level Change and with Murali Mallikarjunan (J-PAL) on Evidence-based Policymaking!
---
The second "story" is that I am collaborating with Ravishanker Iyer of Story Rules on a new online course Effective Storytelling with Data! If you transform numbers into impactful messages for a living, he's your go-to guy. What's impressive about Ravi isn't just his past experiences working with the whos-who in India Inc. It's his passion and consistency for all things storytelling! His corpus of weekly newsletters and daily posts on LinkedIn are very public proof, and our conversations over the last two months are less public proof. :) The 4-week course launches on October 4th, and we are sure it is going to help you feel competent, supported and inspired for your critical presentations at work! Sign up here before enrolment closes in 2-3 days.
I'm excited about this collaboration because I'm following a hunch (and arrogance?) that "You bring me the content, we'll create an amazing course & community out of it." In other words, no matter what you want to teach, let's work together on the best ways of how to teach it online. Over the past few months, I have worked with people who teach economics, storytelling, AI, gardening, elementary math, etc., and developed a layer of content-agnostic principles that have held together well. Some of these principles are articulated on Zoom Instruct, which has seen steady growth in enrolments from ~10 countries since the launch in August (high-five, Prof. Jick!).
All of this is encouraging because isn't it staggering how much knowledge is just sitting in people's heads, hearts and hands?
I feel called to unlock this latent edu-preneurship at scale.
So that's the asymmetric bet I'm going to be taking over the next few months. Even if I fail, I know I'll learn a ton. Being part of the On Deck Founders Fellowship has been such a support to keep at that mission, and I'll write more soon!
That's all for now. I'd love to hear from you all, and hope that you're taking care of your precious courage wherever you are!