Zoom Instruct: How to teach an interactive online class!
In this edition of the Animo newsletter, I am excited to announce Zoominstruct.com, a free online course that shows you Interactive Zoom Teaching in Action!
Take a few minutes to share the link www.zoominstruct.com with an educator you know.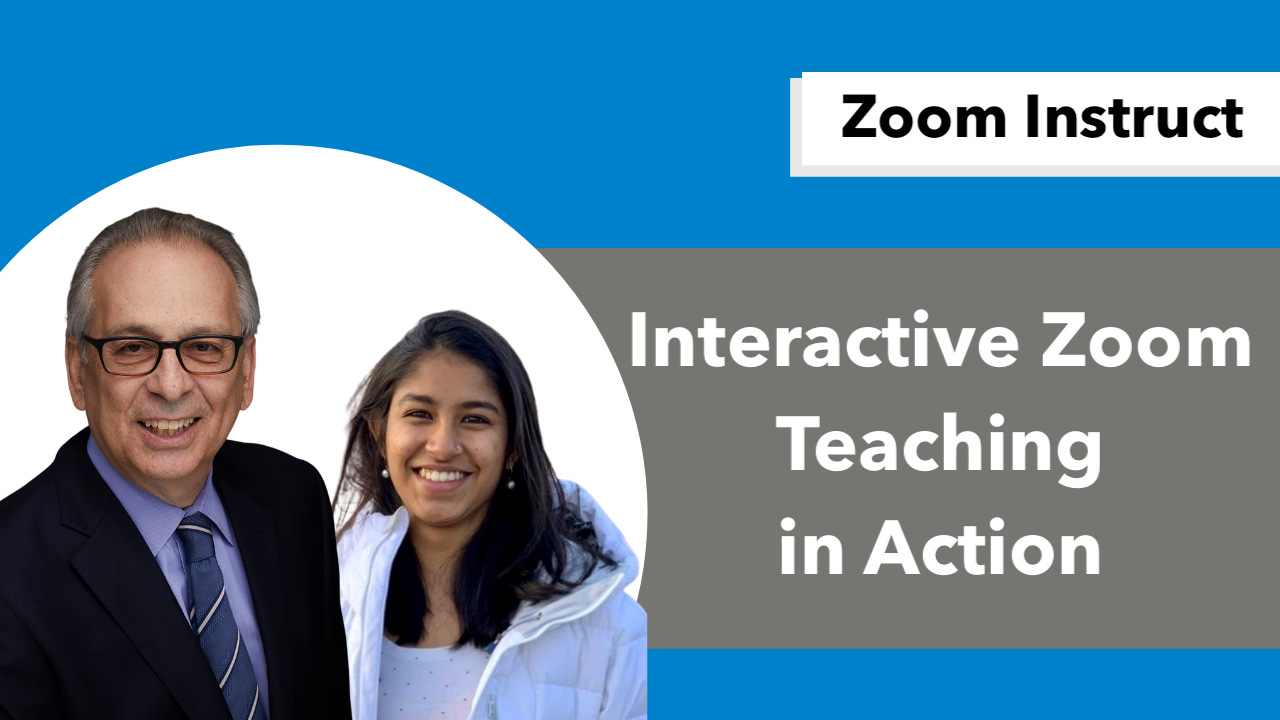 This course has been in the making over the last few months as I worked with Prof. Todd Jick, who teaches Organizational Change at Columbia Business School and is a two-time recipient of the Singhvi Prize for Teaching Excellence. The word most students use to describe him is "legendary": he's there at orientation, knows everyone by their name, and has mentored generations of MBA students in leading their organizations. His commitment to students was apparent even to an outsider like me when I heard his life story at a #CBSMatters talk in February 2020. I didn't know it then, but a cold email I sent him a few weeks later would lead to this collaboration that I am so excited to share with you all.
Why we created this course
It was March 18th 2020, my birthday, and COVID-19 was sending ripples of school and university closures all around the world. The education community was going to need to adapt rapidly in response to the crisis, and at that point, everyone was taking the best shots they could without knowing where they'd land. The research I was doing at MIT at the time felt important, but in that moment, not feel one bit urgent. As people around me scrambled to learn Zoom, I had already experienced a wonderful semester of teaching online with Prof. Marshall Ganz's incredible Public Narrative team at the Harvard Kennedy School Executive Education.
It felt urgent to share that teaching, optimism and courage with others. If that meant letting go of a job and a stable paycheck, then that was going to be a choice I owned.
I started by sharing some lessons from our Public Narrative class in this LinkedIn article and offering some workshops with my incredible HKS colleagues (and especially, with my soul-sister Rosi Greenberg). I began helping Prof. Todd Jick at Columbia Business School – gatecrashing his Organizational Change class in the process – but we were still nowhere close to reaching the severe need of educators around the world.
Come May, it became clear that the next cohort of online educators needed more than a scrambled-together a bunch of tips and articles to succeed. They needed to see what the whole picture looked like, and how to make the online classroom feel like their own. As I contemplated my role in it all, I proposed hacking together a few segments from recordings of Prof. Jick's Spring course. He said, "Sure, and why don't we add a little video about this other thing too?"
One thing led to the next, and what started off a short video editing project morphed into a full-length production of authentic class segments, how-to videos and written guides that take online educators from square one to forming a rich, connected community. Prof. Jick and I have spent many joyful hours on Zoom calls – from homes and hotel rooms, between back-to-back meetings and moving across cities – all with the intention to give educators a structured, comprehensive path to set up their online classes.
Why do I think this course will be valuable?
Since March, I've scoured 258 sites with written tips and how-to advice. Of these, I can count less than five with video examples of live online classes. Now I was lucky to have the experience of learning and teaching on Zoom beforehand, but for someone just starting out, I can imagine the fear of this unknown.

"How can I teach online if I don't know what it even looks like?"

Prof. Jick and I have crafted, filmed and annotated segments of an actual class with 25 MBA students to show you what interactive teaching looks like. We demonstrate examples of opening and ending the class, varying discussion formats, creating dramatic debates, organizing virtual celebrations, and more.
An online class is only as great as its students' participation in it. Carrots and sticks don't work any more, and the only way to create genuine engagement is by designing a space where students want to be present. Therefore, instead of just asking, "What am I going to say and teach?", designing for interaction should be your #1 focus.

With this in mind, we centre the course on twelve simple ways to bring students into the learning community and enable interaction with you and with each other.

All you need is for you to be yourself, and to practice leadership in facilitating the space intentionally. These are the raw ingredients that educators already have. The tech is just a way to make it visible.

(Please also see Marshall Ganz's excellent article on creating learning communities titled, Just learning the Possibilities).


This online course has examples from an MBA class, but don't let that deter you if you teach a different group. Our teaching philosophy here is inspired by LEGO bricks: you can use these teaching "blocks" no matter what you teach. Use one layer or multiple layers. And put them into use tomorrow if you like! There is lots of room for contextualization and making this authentically your own.


We share a framework on planning your course: both, the big picture of course spanning months, and also, the little nuts and bolts for the agenda of an individual online session. Teaching online requires this kind of intentional planning, at least until people find their comfort in the medium, but after that – the sky is the limit.


Finally, this is a free, living resource that we hope becomes your home for all things on interactive teaching. We plan to update it regularly with downloadable tools, more examples from actual classes, a self-assessment of online teaching, and links to the best advice out there so that you don't have to keep track of it all. We'd love to hear your recommendations on what you want to see in a future version!


The demo videos that accompany lessons in the course are available on YouTube as a playlist in case you want to bookmark or share a specific video with your team. We recommend accessing them through the Zoom Instruct course so that each example is understood in the context of the objectives it is intended to illustrate.

We hope you will enjoy this resource! Please take a couple of minutes today to share the link www.zoominstruct.com with an educator, parent or any kind of online creator, because the best teaching techniques should not be locked up anywhere (and especially not in Ivy League universities). Happy Online Teaching!
---
If you want to learn about one-on-one coaching or live workshops that have already helped hundreds of educators, feel free to reach out to me directly by replying to this email.